井川 智之先生
CEO and Global Biologics Leader of Chugai group
 Chugai Pharmabody Research Pte. Ltd.
要旨
Emicizumab, a humanized anti-FIXa/FX bispecific antibody for hemophilia A, is the first bispecific IgG antibody which was approved by the FDA. In my presentation, I will talk about the discovery and development of emicizumab and how we can further improve the properties of emicizumab by antibody engineering.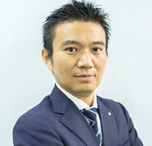 ご略歴
Tomoyuki Igawa, Ph.D., is currently the Chief Executive Officer of Chugai Pharmabody Research in Singapore. He graduated and awarded PhD from University of Tokyo for studies in Engineering, Chemistry and Biotechnology.

He has started working at Chugai Pharmaceutical, a member of Roche group, as Research scientist, and after a couple of year as Research Scientist working on early CMC development and pharmacokinetics, he has led the effort on developing novel antibody engineering technologies which enabled the discovery of bispecific antibody HEMLIBRA® (emicizumab) for hemophilia A, recycling antibody ENSPRYNG® (satralizumab) for neuromyelitis optica spectrum disorder, sweeping antibody and switch antibody technology for various applications. Recent years, he has been responsible for leading biologics drug discovery in Chugai Pharmaceutical. Dr. Igawa likes to work in the area of interface between antibody technology and disease biology to solve the unmet needs in the world.